Enterprise IoT solutions for enhanced control and insight into your business.

OptConnect can connect or integrate into just about anything.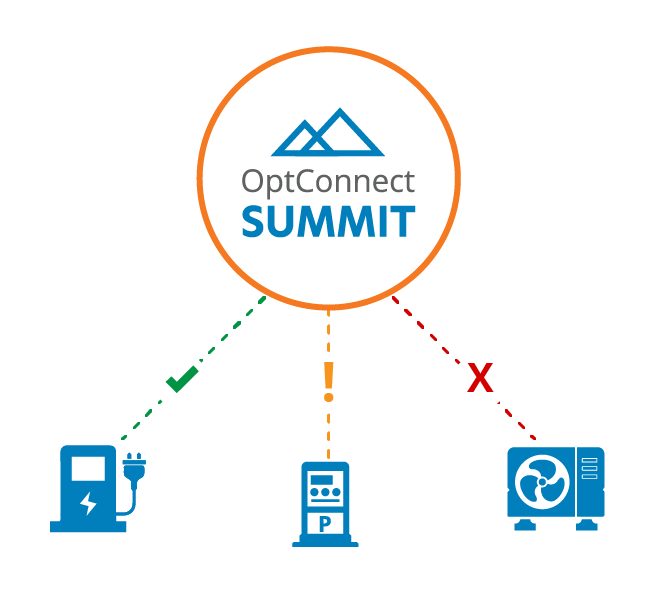 Keep your devices connecting data effortlessly.
You want to manage the data, not the device. That's why we created Summit. Summit is the brains of the operation, it keeps your devices collecting data and alerts you when there is a physical on-site problem that it can't fix from the cloud. You may want to communicate with your device or collect as much data as possible but unfortunately, that can get costly with many of the cloud service providers. Let Summit know how much data you would like to collect and Summit will notify you before overages occur. OptConnect's edge device firmware constantly communicates the status of everything taking place at the data collection site.
Collect your data with the highest available uptime.
OptConnect believes that if you are serious about building great hardware then you need to be serious about creating great software. Through partnerships with AT&T and Verizon, OptConnect has developed proprietary software on all of its devices to closely monitor network quality and performance. In Summit, OptConnect's device management platform, all devices are in constant communication and analyzing if a carrier network switch is needed. All of our devices come equipped with custom firmware to gracefully switch carriers and not lose valuable data.


Control and secure your data from the edge to the cloud.
OptConnect has partnered with wireless carriers to secure your data while it's in transit. OptConnect's deep network integrations can create a secure private IP network tunnel from the device to your cloud server.
The right partner to have when an issue occurs.
Collecting data or controlling devices remotely comes with its challenges. That's why OptConnect offers customer service 24/7/365 to support your troubleshooting efforts. Because OptConnect has tightly integrated edge device firmware coupled with deep wireless carrier integrations, we are able to troubleshoot technical issues at various points in the technology stack.

"Working with everyone at OptConnect has been a breeze. Everyone we've worked with over there has been so open and honest, always keeping our best interest in mind. We especially like that we can get customer service the same day and that tech support always has the answers we need."
David Hayenga
VP and CFO at Meirtran